Rhino in the House: The Story of Saving Samia (Hardcover)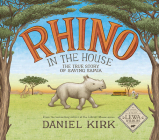 $17.95
Email or call for price.
Description
---
From the award-winning author of the bestselling Library Mouse series comes a biographical picture book about the true story of rhino champion Anna Merz and the black rhinoceros Samia. With a portion of the proceeds being donated to the Lewa Downs Conservancy, this engaging story is perfect for animal lovers, animal rights enthusiasts, and fans of Me . . . Jane.

When Anna Merz traveled to East Africa, she became appalled at the rampant poaching that took place there, specifically toward the black rhinoceros. Anna devoted her life to protecting the wildlife of the region, founding a reserve in Kenya called Lewa Downs to care for them. Anna kept a watchful eye on the animals, especially the rhinos. One day, Anna found a small black rhino calf, likely abandoned by its mother. So she nurtured the calf, named it Samia, fed it special formula, and even let it sleep in her bed.

Everywhere Anna went Samia was never far behind. The two became so close, in fact, that Anna soon learned how rhinos communicate with one another. Anna was able to distinguish the rhino's many different grunts and what she meant by them: "Snort! Snuff," cried Samia ("This is fun!"); "Hoo-hoo-hoo!" she called ("I'm coming!"). But with time, Samia got bigger . . . and bigger . . . and bigger—to the point where she couldn't fit inside Anna's house any longer. It was time for Anna to make the tough decision she always knew she would have to make at some point or another: She would need to reintroduce Samia to the wild so she could lead her life with the rest of her kind.

Richly illustrated with pen, ink, and watercolors, Daniel Kirk's first nonfiction picture book brings awareness to wildlife protection and fosters further understanding of animal rescue and welfare, positioned in a sensitive way that's appropriate for young readers. Kirk traveled to Kenya to see the reserve firsthand and his photographs grace the back matter, which includes an author's note and bibliography.

About the Author
---
Daniel Kirk is the bestselling author and illustrator of the beloved Library Mouse series as well as a number of picture books and novels for young readers. He lives in Glen Ridge, New Jersey.
Praise For…
---
"A solid introduction to wildlife conservation...Samia saves the story, offering great appeal for young readers and moving the lively narrative along with her antics."
— Kirkus Reviews
"Kirk's full-color, playful illustrations render the amiable rhino with cute features, and the savannah scenes are rich with lively detail...A playful glimpse into the life of a conservationist."
— Booklist
"This straightforward description of a wild animal's rescue stands out for the specificity of its setting, made clear to young readers with maps of the world and of Africa with all its countries... A pleasant addition to storytimes about animal rescue and rehabilitation."
— School Library Journal
"This wonderfully illustrated, charming true story is another great book for introducing environmental issues and some of the joys and challenges they engender."
— School Library Connection